The Retreat Centre
There is plenty of space at Veduna and a wide variety of facilities available, all of which enjoy stunning views of the hills beyond. These include a large yoga and meditation studio and separate dining and relaxation area, with a wood burning stove and panoramic vista. The workshop, pottery studio and treatment rooms are available for the guests and practitioners to use, and the outside natural pool and fire pit are perfect places to relax and enjoy Nature.
The Veduna buildings are built to low energy/passive house standards. Our retreat centre is of traditional design, made of local wood and built by craftsmen of the neighbouring towns.
Please do take a look at the events below and we hope you find something of interest. If you would like further information, do get in touch. Please note, most of the events listed are run by independent practitioners.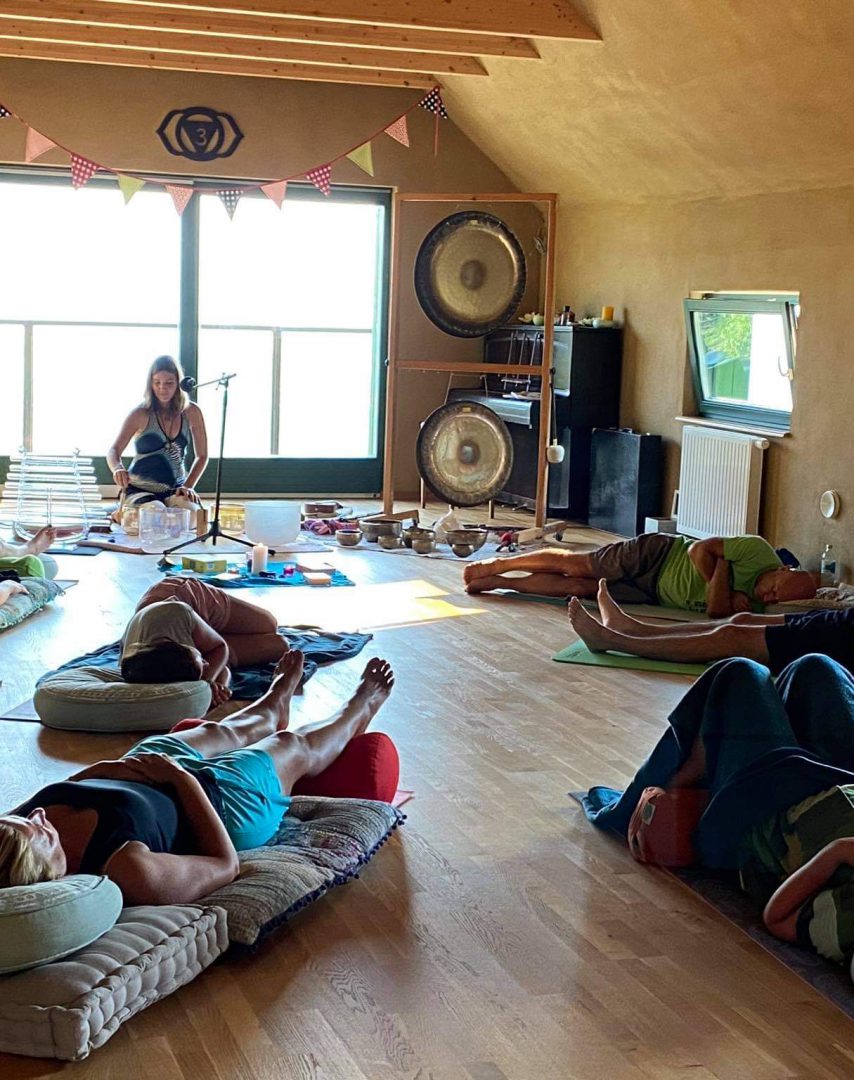 Retreat z zvokom v naravi in lepota bivanja, 18th - 20th September 2020
'Ko sem se povezovala z energijami za ta retreat, sem občutila, da lahko skozi to naravo in božansko prehrano, ki jo z ljubeznijo pripravljajo na Veduna retreats ter s pomočjo zvoka, katerega bom prevajala, ta, ki nas pelje v globine, višine, širine, razširja našo zavest, spušča, odpušča nepotrebno in daje visoke vibracije, podam en preprost retreat, ki pa bo globok in transformativen za vse, ki boste prišli.'
Tjaša Cepuš, zvočna alkimistka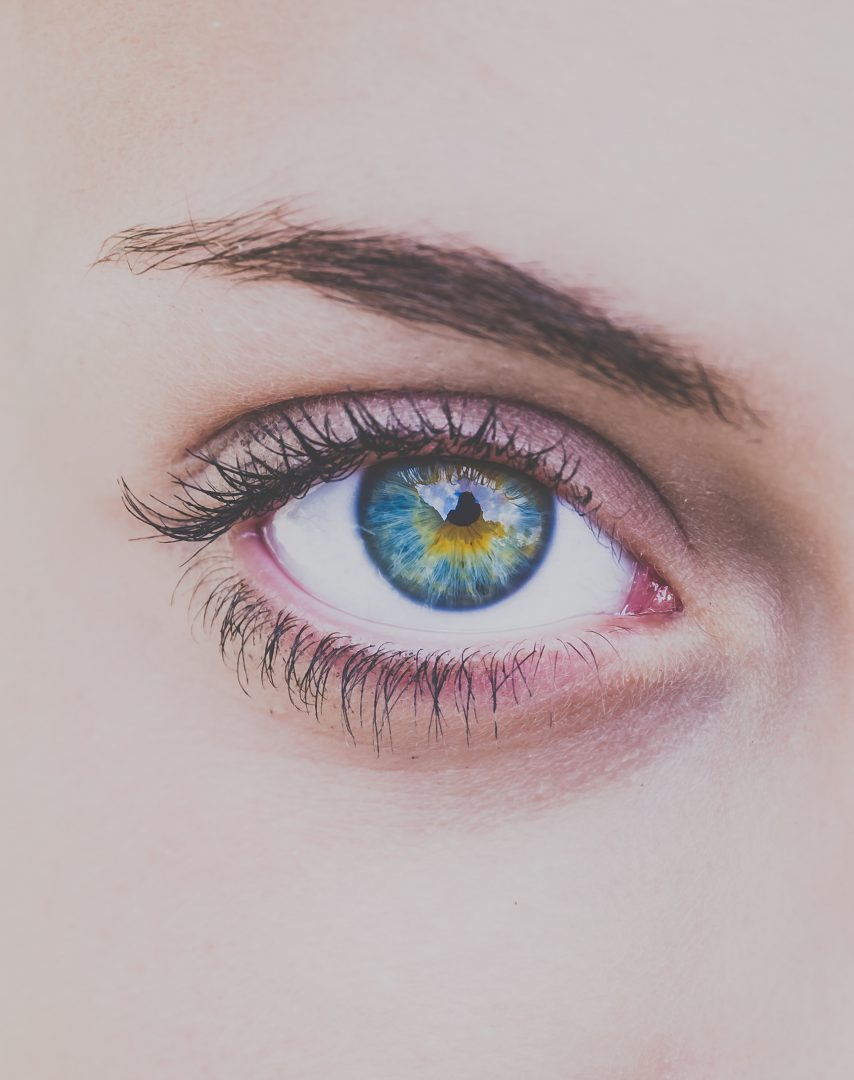 Hearts & Eyes Wide Open, 3rd - 12th Oct 2020
Transformational Retreat & 100 Hour Yoga Teacher Training with YiA International
"Yoga is the journey of the self, through the self, to the self." –The Bhagavad Gita
The greatest spark for transformation starts with complete acceptance as you are. All the beauty of your luminous light and the shadows it casts. It is stepping into the awareness that these two energies work together, united in perfect harmony. This acceptance catapults you into the present moment of sweet surrender and unconditional love. It is from this space of having our hearts and eyes wide open that we enter into deep awareness and we realize that we are not broken. We realize that all the answers we seek already exist within and always have. We come to know that inside each and every one of us lies an unwavering joy and peace that we simply must choose to connect with, to remember.
YiA International School of Personal Transformation & Yoga offers life changing trainings, workshops and retreats around the world. YiA is a Yoga Alliance® Registered Yoga School & YACEP® Continuing Education Provider offering both beginner & master level trainings. Upon completion, for those who desire to become a Registered Yoga Teacher with Yoga Alliance® these hours will count towards your 200hr certification with YiA Yoga. For those who are already RYT's, you will be able to submit the transformational retreat hours for Continuing Education Credit through our YACEP® school.
This transformational retreat is lead by Katherine Sophia, E-RYT 500 Master Space Holder & Yogini. Katherine has been on the path of yoga since a young age and has over 20,000+ hours of transformational teaching experience.
For more information or to book your space, contact YiA International on WhatsApp at +507-6630-3769 or visit www.go2yia.yoga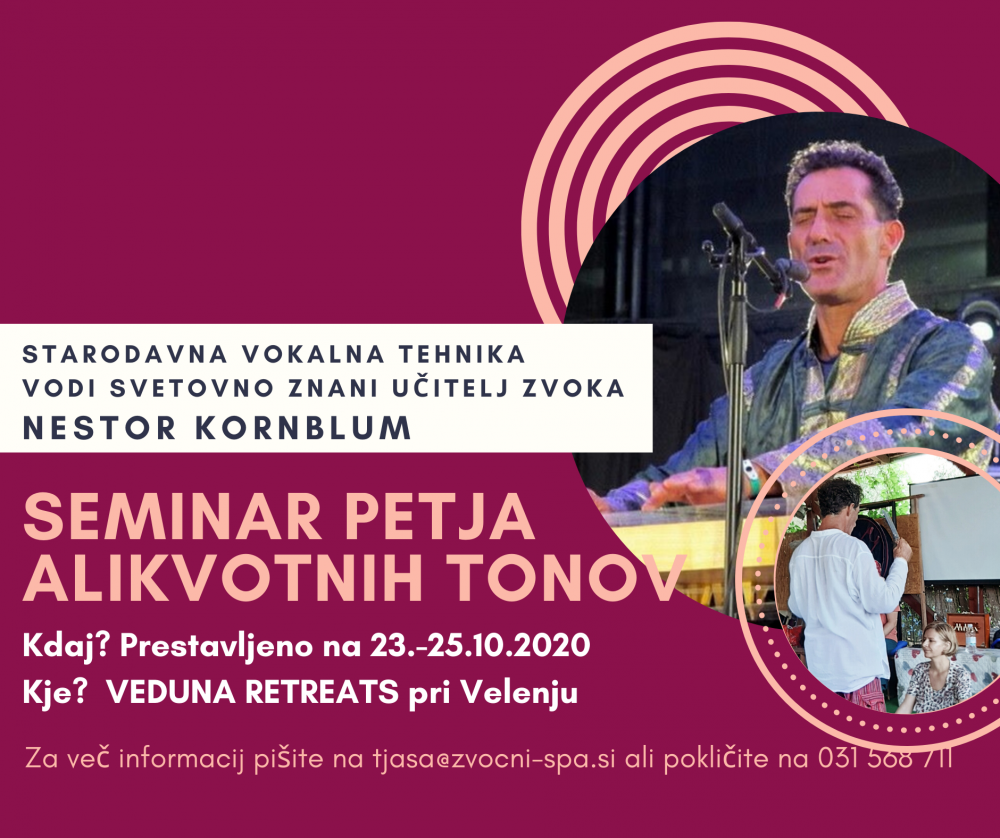 OVERTONE SINGING WITH NESTOR KORNBLUM, October 23th - 25th, 2020
We invite you to:
An experiential seminar, led by a European leader and teacher of a sound therapy and overtone singing workshop Nestor Kornblum.
A brief overview of the theory and science of how sound therapy works with practical demonstrations.
Learn Magic vocal overtone singing techniques with a system that Nestor has designed for 23 years. Discover some of its potential uses as a healing tool.
Enjoy the peace and unity of group intonation in the sound of our voices in harmony.
Experience therapeutic tuning forks specifically tuned to natural harmonic frequencies to restore balance and harmony.
Nestor's clarity, humor and simple style ensure a fun and practical experience. Everyone will be given useful audio tools to practice at home. During the workshop, Nestor will also include a demonstration of overtone singing.
Each day will include warm-up and breathing exercises, overtone singing or tuning fork exercises, and voice exercises.
Info: tjasa@zvocni-spa.si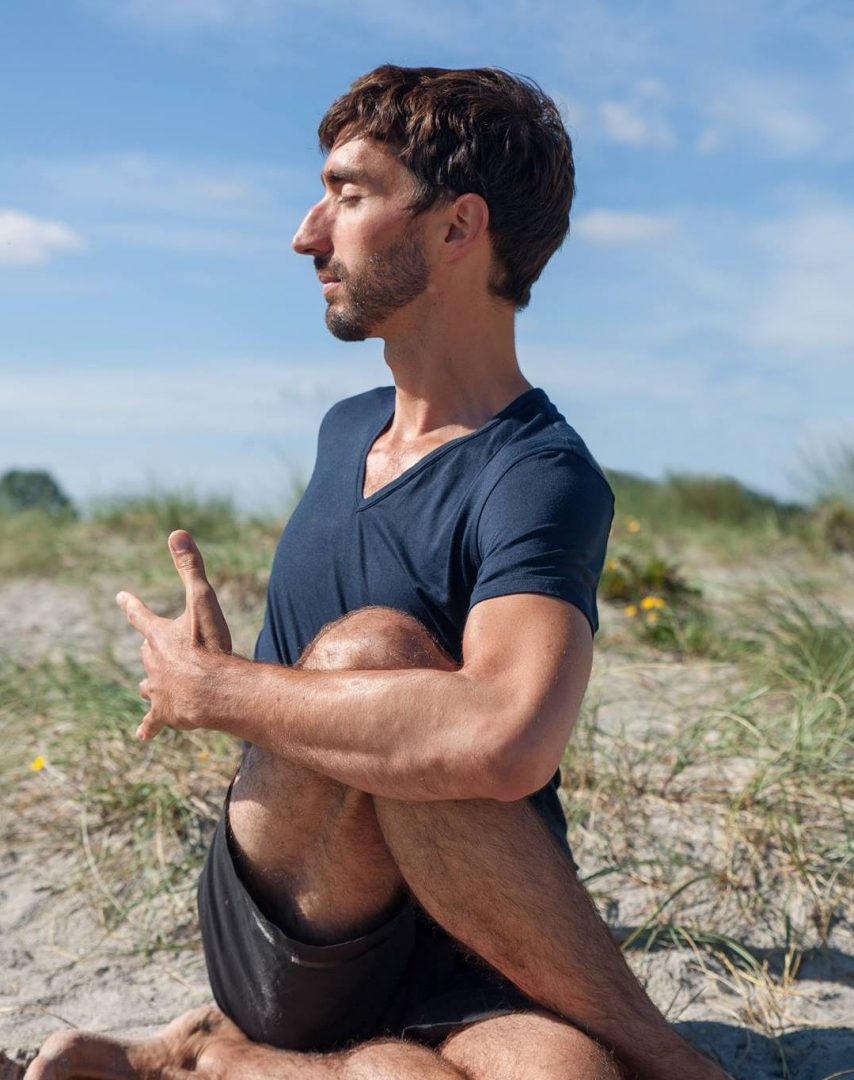 BACK TO NATURE – Yoga & Mindfulness Retreat, 19th - 24th May 2021
Enjoy a 5-day gateway in the beautiful mountains and raw nature of Slovenia with daily Yoga and Mindfulness, guided contemplations, sauna, long walks, healthy food, and rest.
The intention of this retreat is to deeply nourish, rejuvenate, and re-balance your Body, Mind, and Heart. You will also deepen or build up your yoga and mindfulness practice as a natural result of this retreat.
You can expect an inclusive, relaxed, and light-hearted atmosfere. Supported by the warmth and softness of the surrounding Slovenian nature, Cedric and his guest teacher will create a safe and sacred space so you can enjoy the retreat to its fullest.
Treat yourself with an unforgettable retreat, and reconnect to Source and yourself. All levels of practice, ages, nationalities, gender identities are warmly welcome.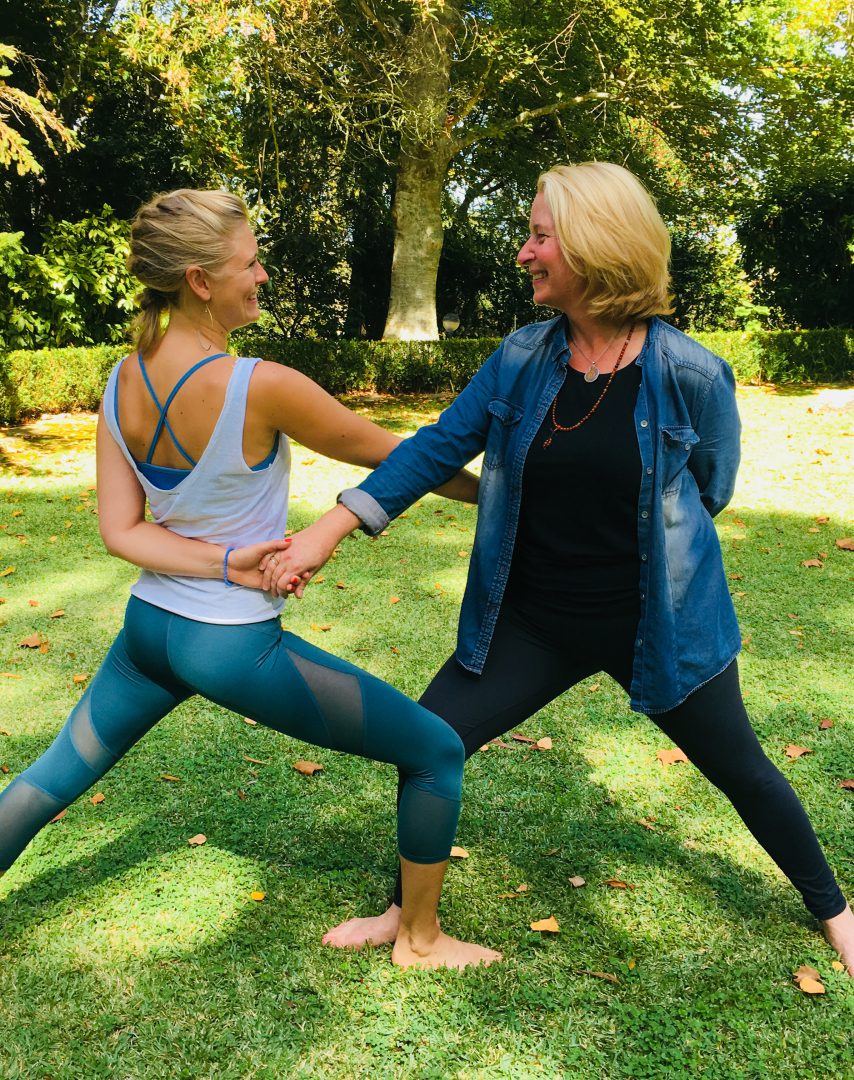 Women's Yin Yoga Retreat - Embody the elements, 18th - 24th Aug 2020
With Kirsten (Impact Yoga) & Samantha (Soulsister Bodywork)
Take time to slow down, nourish your soul and completely reconnect with your true nature. We will root down and experience the stability of the earth, breathe in the mountain air, flow with the energy of water, feel the inner alchemy of fire, and be held, as we are, in the element of space.
Dive deeper into your yin yoga practice and discover your own felt sense of each of the five elements. Learn how the specific healing properties of each element can support and empower you.
A week of inspiration. A week of ultimate self-care. A week to come home to yourself.
Email: kirsten@impactyoga.nl

MOUNTAIN RETREAT: 6 DAYS OF NATURE, YOGA & MEDITATION 27th Aug - 1st Sept 2020
Join us for a nourishing week of immersing yourself in the stunning mountains of Slovenia with a deep daily practice of yoga and meditation.
Taking a week out of your usual schedule is a powerful way to come back to your centre and establish or deepen your practice, taking all the benefits home with you. And, especially if you haven't discovered Slovenia yet, it's a wonderful time to explore.
Our daily schedule will offer morning meditations at the most peaceful, 'sattvic' time of day, guided journaling and philosophy teachings to give you personal time to reflect, and a very complete yoga programme; both energising vinyasa and mindful slow flow to quiet the mind and rest deeply.
This is your week to re-connect and re-charge. All sessions are optional, so you can take exactly what you need. There will be plenty of free time for reading, wandering through the trees, swimming, sauna, reading, sun-bathing, forest-bathing, napping…
REGISTER & QUESTIONS: write to info@yogainenglish.berlin